Timor Leste Eye Care Servce - Past, Present and Future.

(webinar in English)
Friday 23/11/2018
By the completion of this webinar participants will be better able to:
Describe the status update of East Timor eyecare service

Anticipate the future

Identify ways to get involved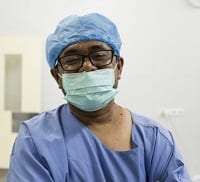 Marcelino Correia MD
(Timor Leste)
Ophthalmology Training, University of Tasmania; Graduate Diploma in International Ophthalmology 2008; Masters in International Ophthalmology University of Sydney 2009; MSICS intensive training program Tilganga Eye Centre, Nepal; Practicing National Eye Centre and East Timor Eye Program (https://www.etep.org.au/) Dili.
Manoj Sharma MD
(Timor Leste)
Medical training (Ukraine, 1993); Residency in Ophthalmology Nepal, 1999); Fellowship in Cornea and Ocular Surface (USA, 2002); Ophthalmologist, Corneal Surgeon in Nepal, Cambodia and Tibet. International Consultant; Ophthalmologist and Medical Educator for the East Timor Eye Program (https://www.etep.org.au/), Dili; Professor of Ophthalmology B.P. Koirala Institute of Health Sciences in Dharan, Nepal.
Associação Olhar pelo Mundo
(Portugal)
Guilherme Néri Pires MD (Portugal), Ana Vergamota MD (Portugal), and José Pedro Silva MD (Portugal)